Jul
30
Fri
2021
2021 Order of the Arrow Summer Ordeal – Registration Deadline: July 28, 2021 @ 11:55pm

@ Camp MK Brown
Jul 30 @ 7:00 pm – Aug 1 @ 12:00 pm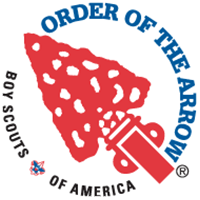 Registration for the 2021 Order of the Arrow Summer Ordeal is now open!
Ordeal Candidate Check-in Friday evening 7 PM July 30th  in the parking lot . Vehicle occupant(s) temperature checks, Completed Medical forms Part A and B, COVID-19 Release Form to be presented before check-in. The program ends on Sunday morning after breakfast, church service, and camp clean-up is completed – approximately Noon.
Pre-EventPre-Departure Medical Screening Checklist Revised April 2021
Oct
18
Mon
2021
Staff Training- Office and Camps CLOSED
Due to mandatory trainings for all staff, the Scout Service Center and Camps will be closed.  Please take care of any scouting business prior to these days.